With the volatility and rising cost of dental alloys, we hear our doctors asking, what options do we have?
So far, we have seen Gold prices over $1900/oz, Platinum @ $950/oz, and Palladium way up to $2200/oz. The answer to combating the high cost of PFMs, stabilizing your lab expenses, and increasing practice profitability is to utilize the many All-Ceramic options we offer.  Restorations using Zirconia or E.max have proven to be strong and reliable.
Additionally, they can provide a more esthetic appearance, and you know your patients will appreciate that. It is important to note that a different preparation style is required for All-Ceramic restorations.  'A circumferential chamfer margin with rounded axial line angles.'  These images show the recommended prep design for both E.max and Zirconia.
To achieve the strength, longevity, and esthetics that these materials claim, it is essential that these parameters are followed.  Also, the color of the underlying tooth, post, or implant abutment will influence the final shade of the crown or veneer.  So, please remember to inform us on the Rx and in your photos of this color.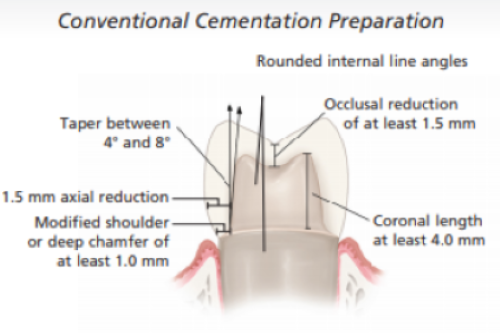 When it comes to Full Contour Zirconia, you may choose an esthetic or more economic option.
Our EZ Esthetic Zirconia is milled from a pre-shaded, gradient disc of highly translucent, multi-layered, American Made zirconia. Due to its increase in strength to 1100mpa, it is now suitable for any size restoration, from a single anterior to full arch bridges. The MaxxZr is also rated at 1100mpa, is value-priced, and also suitable for single posteriors or multi-unit bridgework.  For the best in esthetics, both can be cutback facially and layered with E.max Ceram.  This is the same porcelain used to enhance the look of E.max.
Remember, when it comes to E.max or Zirconia, you can choose a monolithic, full-contour restoration, or for maximum esthetics, ask for it to be cut-back and layered facially with porcelain.
Our E.max crowns and veneers are always delivered to you acid etched and ready to bond in place.  Although E.max can be conventionally cemented, the 400mpa strength is achieved through bonding. Zirconia restorations come to you sandblasted and ready to cement. [Zr can now be etched upon request] **It is essential to use a product like IvoClean from Ivoclar after try-in, to thoroughly remove any phosphates from the intaglio of the crown and to ensure maximum adhesion of your cement.